WARNING!!! USE OF THIS PRODUCT MAY BE ADDICTING (and deadly to fish)
Had a chance to take my brother and a couple of my best pals out to Cat. Is. last weekend. These guys are more comfortable with five irons than fishing rods. I really wanted to see these guys pull on some fish, so again I enlisted the help of Capt. Dave Hansen. If it was going to happen for these guys they were going to need to be right on top of the fish….and Capt. Dave delivered in spades!! Got to the island around 1:15a on Sun. and tried like heck to put the first ghost on my boat – it wasn't to be on this day. The dark of the morning was spent catching many bat rays, a few barries, and several 4-5 pound calicos.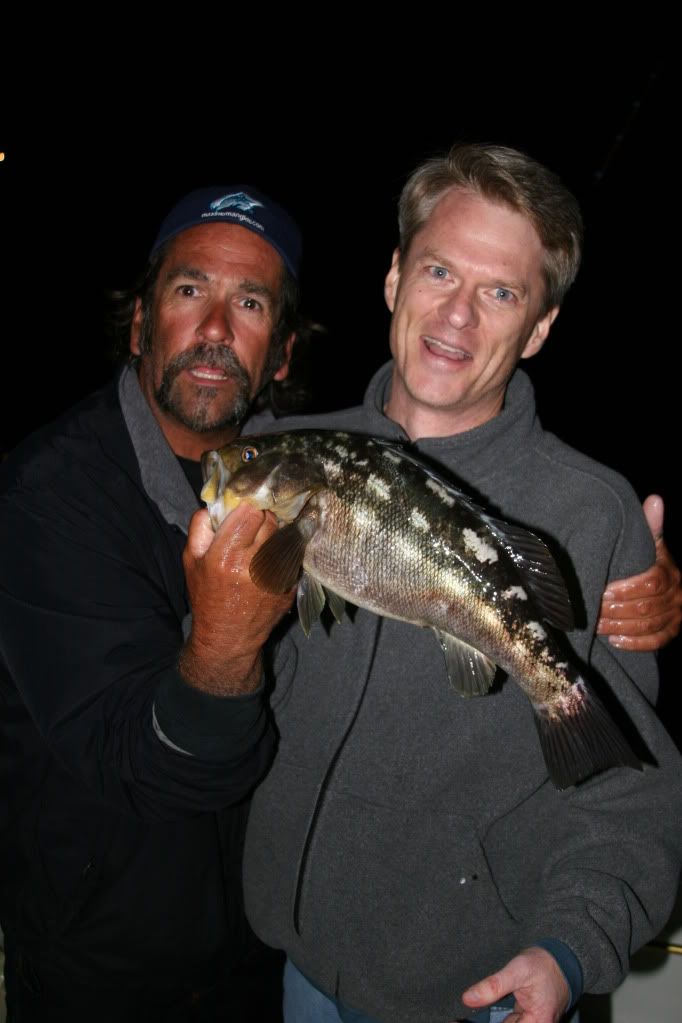 I broke off a couple of who knows what, that felt pretty good but ???? Capt. Dave told me it was my poor technique (and it probably was), but he likes to bust my chops
We gave up on the Cb effort around 8a and headed out for some Calico action. Thats pretty much how we spent the entire rest of the day. Only made a couple of moves. Capt. Dave put my friends right on top of the b. They each caught their limit and, as there were so many b caught (well over 100 fish released), they had the opportunity to be choosy about keepers that came over the rail. We caught the fish on live squirts, fresh dead, tray bait, plastics and anchovies.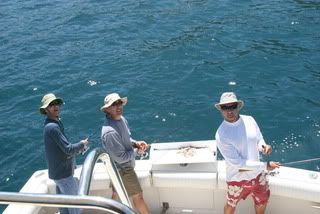 It was great to have Dave Hansen on board again. As I alluded to before, my friends are pinsskers not finseekers – not a problem as Capt. Dave was there to put them on the fish, and them with all manner of instruction and istance. Tangles, backlash, re-tie or re-bait were all handled quickly and professionally. My pals were never made to feel like rookies. Dave wanted them to catch each and every fish that bit. In fact they ended they day, each never having caught so many fish in a day, feeling much more proficient and comfortable with the gear. My friends fished every last piece of bait on the boat. We pulled the hook at 3:45p.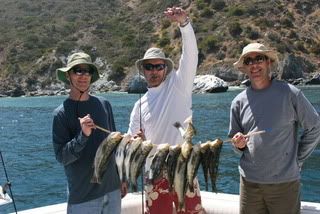 While I settled in at the helm for the ride back (almost flat), Capt. Dave went to work cleaning the catch and the boat. This guy is working at something from the moment he steps on your boat to the moment he steps off. The knowledge, instruction and just plain hard work that Capt. Dave Hansen brings to your boat can only add up to a more relaxing trip for you and likely (at least has been my experience) memories of a lifetime for your guests. Be Safe. Be Well. Tight lines.